Allama Iqbal Essay in English
Born on November 9, 1877, Muhammad Iqbal, also known as Allama Iqbal, was a philosopher, poet, and politician in British India. He is regarded as one of the most significant authors of Urdu literature and has written in both Urdu and Persian. He was also referred to as the modern-day Muslim philosopher. Iqbal is referred to as the Poet of the East or Shair-e-Mashriq. He is also referred to as Hakeem-ul-Ummat ("The Sage of the Ummah") and Muffakir-e-Pakistan ("The Inceptor of Pakistan"). He is also known for his Persian writing. He was acknowledged by the Pakistani government as its "national poet. He has written a variety of stories and books.
His first collection of poetry, Asrar-e-Khudi, was published in Persian in 1915. He also published Rumuz-i-Bekhudi, Payam-i-Mashriq, and Zabur-i-Ajam. His most well-known Urdu writings include Bang-i-Dara, Bal-i-Jibril, Zarb-i Kalim, and a portion of Armughan-e-Hijaz.
He gave a number of lectures in various academic settings, which Oxford Press later compiled into a book titled "The Reconstruction of Islamic Religious Thoughts in Islam." Iqbal was influenced by Sir Thomas Arnold's philosophy lessons when he was a student at the Government College in Lahore. Arnold's lessons convinced Iqbal to pursue further education in the West. He went to England in 1905 to pursue his higher education. Iqbal was admitted to the bar as a barrister from Lincoln's Inn the same year he received a scholarship from Trinity College in Cambridge and graduated with a degree in arts.
Iqbal moved to Germany in 1907 to pursue a doctorate, and in 1908 he received his Ph.D. from Ludwig Maximilian University in Munich. Iqbal started producing poetry in Persian while he was a student in Europe. He gave it a priority because he thought he had discovered a simple means of articulating his ideas.
Throughout his life, he kept up his Persian writing. Iqbal began his career as a reader of Arabic at Oriental College after earning his Master of Arts degree there in 1899. Shortly after, he was chosen to become a junior professor of philosophy at Government College Lahore, where he had previously been a student. Iqbal worked there until he left for England in 1905. Iqbal rejoined the same college in 1908 after his return from England as a professor of philosophy and English literature. Iqbal started practicing law at Chief Court Lahore around the same time, but he soon gave up the practice to focus on writing and became an active member of Anjuman-e-Himayat-e-Islam.
He was appointed general secretary of the same organization in 1919. Iqbal's ideas, which are based on his travels and stays in Western Europe and the Middle East, are primarily concerned with the spiritual advancement and development of human society. Western philosophers like Friedrich Nietzsche, Henri Bergson, and Goethe had a significant impact on him.
Mawlana Rumi's poetry and philosophy had the greatest impact on Iqbal's thoughts. Iqbal, who has been deeply rooted in religion since childhood, started focusing intensely on the study of Islam, the culture and history of Islamic civilization, and the future of Islam in politics while embracing Rumi as his mentor.
Iqbal played a major part in the political movement of Muslims. Iqbal continued to be involved with the Muslim League. He opposed both the Khilafat movement and India's participation in World War I, and he maintained close contact with prominent Muslim politicians like Maulana Mohammad Ali and Muhammad Ali Jinnah.
Iqbal was ideologically apart from the Muslim leaders in Congress and had lost faith in Muslim League politicians as a result of the League's factional strife in the 1920s. Iqbal, who had grown dissatisfied with factional leaders like Sir Muhammad Shafi and Sir Fazl-ur-Rahman, came to believe that only Muhammad Ali Jinnah could uphold this unity and accomplish the League's goals for Muslim political empowerment. Iqbal convinced Jinnah to end his self-imposed exile in London, return to India, and take control of the League as a result of their close, personal relationship.
Iqbal outlined a vision of an independent state for the Muslim-majority provinces in northwest India in his presidential address on December 29, 1930, saying, "I would like to see the Punjab, North-West Frontier Province, Sind, and Baluchistan amalgamated into a single state. The establishment of a cohesive Northwest Indian Muslim state, at least for Northwest India, seems to be the best option for self-government, whether it be within or outside the boundaries of the British Empire.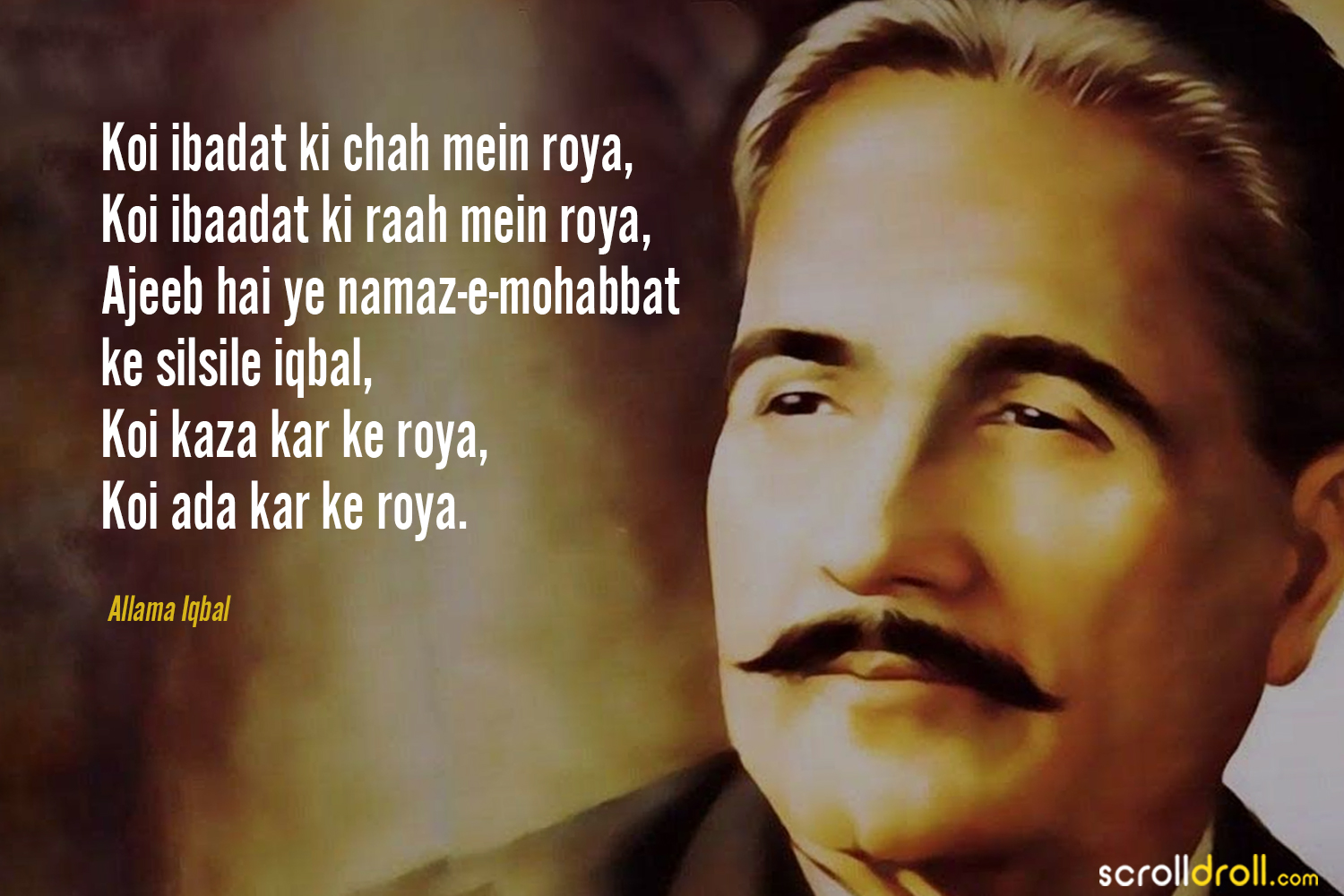 In addition to his literary works in Urdu and Persian, Iqbal also wrote numerous letters in the English language and two books on the subjects of 'The Reconstruction of Religious Thought in Islam' and 'The Development of Metaphysics in Persia'. In which he discussed his views on Islamic Sufism and Persian ideology, particularly his convictions that Islamic Sufism awakens the seeking soul to a higher understanding of existence. Along with other political, social, and religious issues, he also spoke about philosophy, God, the purpose of prayer, the human spirit, and Muslim culture.
Allama Iqbal's personality has made an enduring impression on the history of Pakistan. He made an effort to rouse the Indian Muslims through his politics, poetry, and philosophy. He introduced India's Muslims to the concept of independence. Iqbal passed away on April 21, 1938.